With spring comes dresses!  Summer dresses may now be braved this time of year, as tights and sweaters lose their appeal with the longing for warm weather, but the big day summer dresses come out is Easter Sunday.  Rain or shine, sleet or snow, Easter Sunday is the time to wear a cute summer dress to welcome in the spring weather (or in some cases the hope of spring weather)!  In our family, Easter dresses are a big deal.  We girls all have different styles in our family, but we still have fun helping each other find the right sort of dress to officially start off the season of cute summer dresses and skirts!
As a seamstress, if I have the time, I enjoy sewing my own Easter dress.  This year, although I'm not sure I can really say I had time to sew my dress, as I was up until 12:30am the night before Easter, I did manage to make a dress for myself.  This dress was inspired by a dress I saw in a store window while out of town.  Although I didn't snap a picture, I loved the idea of a fairly unassuming bodice and a bright colored skirt that complimented the bodice in an unexpected way. With the excuse of needing an Easter dress, off to work I went creating a dress with a simple bodice and bright skirt to pull it all together.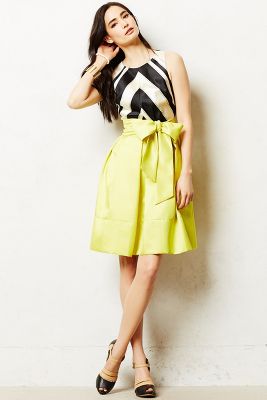 About a year ago I got this beautiful olive green fabric on sale that feels like a mix between cotton and rayon.  The flow and shine of the luscious fabric alone was inspiring for something extra special.  With it safely in my stash, I was just waiting for the right dress to make it into.  What I loved about the design I chose was that the top was a simple pattern with a classy print of black and white polka dots, the stunning bright color of the skirt really drew me to the dress as it added an eye catching pop!
Now, the color I chose for my skirt was an olive green, but I can just imagine all sorts of fun dresses with black and white bodices that are striped,  zigzagged or polka dotted, combined with bright skirts in all sort of colors such as robins egg blue, bright bubble gum pinks or cheery oranges.  The combinations of this eye catching color and pattern combo are quite limitless.  So as you go off and start wearing summer dresses, I hope some of you seamstresses out there consider using this idea to create a classy and fun, eye catching dress.